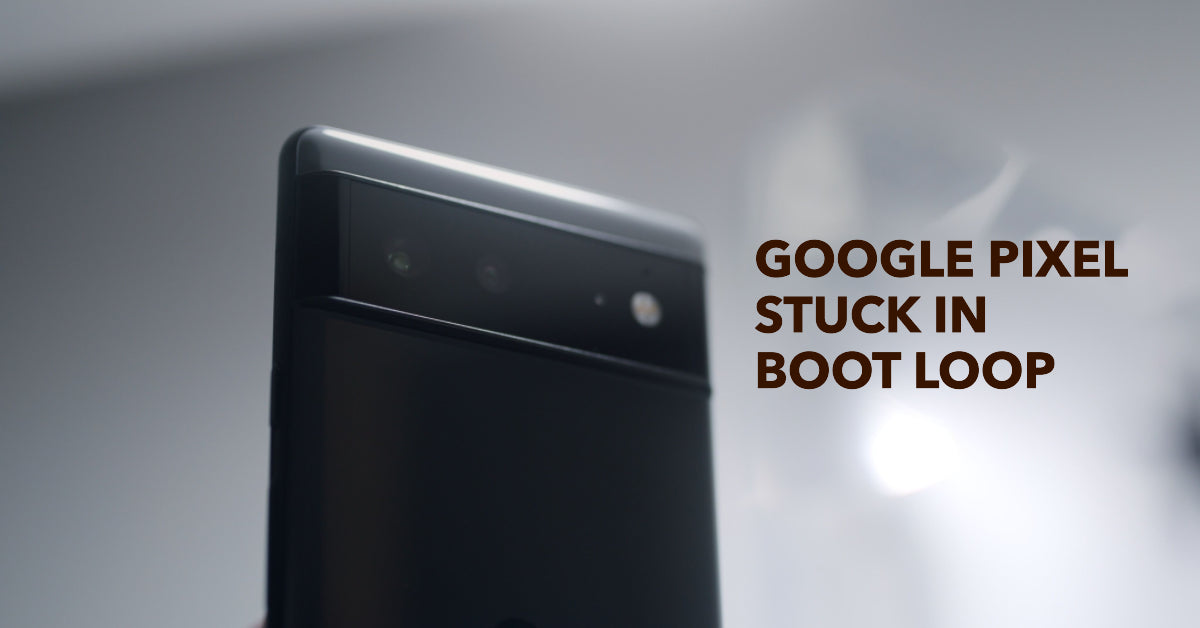 Google Pixel Stuck In Boot Loop? Try These Proven Solutions
Trapped in an endless Pixel restart cycle? Beyond frustrating, we know. But don't give up just yet. Consult our tips first - you may be able to stop the loop sans data loss.
If you still have no luck, UR.co.uk offers certified refurbished Pixels fully backed by a 1-year warranty and 12 months of FREE insurance.
Our in-house experts breathe new life into each phone, so you can score a refreshed device promptly and affordably.
Ready to find out more? Continue 
Don't Panic! Navigate Your Way Out
You woke up, grabbed your phone, and boom - Google Pixel stuck in a boot loop. It's like a bad dream, but hold on! 
Before you seek professional help, let's try a few tricks at home.
Hold Power and Press Volume - The Safe Mode Dance
Hold the power key for a few seconds: It's time to dance with your phone. Long press the power button to restart the device. If that doesn't do the trick, then follow these steps to enter safe mode:
Press the volume buttons: Restart your pixel device, and when the Google logo appears, press and hold the volume down button.
Enter safe mode: Once you see the safe mode on the screen, release the volume button. Your phone will restart in safe mode, where third-party apps are disabled.
Explore the pixel phones: Check for any apps causing boot loop issues and uninstall them.
Tap restart: Press the power key, tap restart, and cross your fingers.
Software Snag? Reboot System and Reclaim Your Phone
Got a pixel stuck in a never-ending loop? Your phone might be dealing with a software issue. 
Here's how to resolve it:
Reboot system: Power off the device, then hold the power and volume buttons together for a few seconds to enter recovery mode.
Navigate and tap: Use the volume buttons to navigate to 'reboot system now' and press the power button to select it.
Wait and hope: It's a waiting game. Give it some time and, with a little luck, your phone will be back to life.
Running Out of Storage? Fix the Full Storage Fiasco
Overflowing storage might be the culprit. Those downloaded videos and apps can eat up space. 
Here's a fix:
Go mobile: On your pixel device, navigate to settings and tap 'storage'.
Free up space: Tap 'smart storage' to erase unnecessary data, like cached files.
Backup and replace: If you still face boot loop issues, backup your data to a computer and consider replacing the battery or visiting a professional.
By taking these steps, you're on your way to rebooting your life (and your phone). 
If you still find your Google Pixel stuck, it might be time to seek professional help as a last resort.
DIY Solutions Not Enough? Time for Professional Help
Your Google Pixel still giving you the boot loop blues? If the DIY tricks failed, it might be time to seek professional help. 
But wait, don't lose hope yet. Let's dive into some other solutions first.
Press, Long Press, and Press Again - Recovery and Factory Reset
Power off and press volume buttons: Turn off the phone, then hold the volume up and power buttons together. Navigate using the volume keys to 'recovery mode' and press the power key to select it.
Enter recovery mode: When you see the Android logo, press and hold the power button, then press the volume up button.
Wipe data and factory reset: Use the volume buttons to navigate to 'wipe data/factory reset' and press the power key. Confirm your choice, and wait for the process to complete.
Reboot your device: Select 'reboot system now', and voila! You're back in business.
Battery Drain? Replace or Recharge!
Running out of juice? A drained or faulty battery might be the troublemaker. Here's how to handle it:
Check your battery: Plug your phone into a charger and wait for a few moments. If there's no sign of life, the battery might need replacement.
Seek professional help: If you're unsure about replacing the battery yourself, it's best to visit a professional. After all, safety first!
Full Storage Stressed Out? Erase and Enjoy Free Space
Connect to a computer: Use a USB cable to link your Pixel to a computer and backup your data.
Erase unnecessary files: Scan through downloaded files, videos, and apps. Delete what you don't need.
Clear cache: Go to settings, tap 'storage', and clear cached data. It's like spring cleaning for your phone!
Final Resort: Visit ur.co.uk and Choose a New Device
Sometimes, the best solution is a fresh start. If your Pixel is still stuck, perhaps it's time to find a new companion.
At ur.co.uk, we offer a fine selection of refurbished phones like iPhone, Samsung, and Google Pixels from the budget-friendly Pixel 4a to the powerful Pixel 7 Pro.
Our devices come with:
A 90-point check
12-month warranty
12-month free insurance
£45 worth of accessories
30-day money-back guarantee
A tree planted with every order
Now, that's a deal to dial in!
Google Pixel Stuck In Boot Loop - Final Thoughts
Fixing a Google Pixel stuck in boot loop may seem like a never-ending cycle, but with a little patience and persistence, a solution is within reach.
If all else fails, don't hesitate to seek professional assistance or explore the high-quality refurbished devices at ur.co.uk.
Remember, technology might falter, but there's always a way to restart, reboot, and reconnect.
Whether it's a tap here or a long press there, solutions are at your fingertips. Keep calm, carry on, and let's keep those pixels dancing!