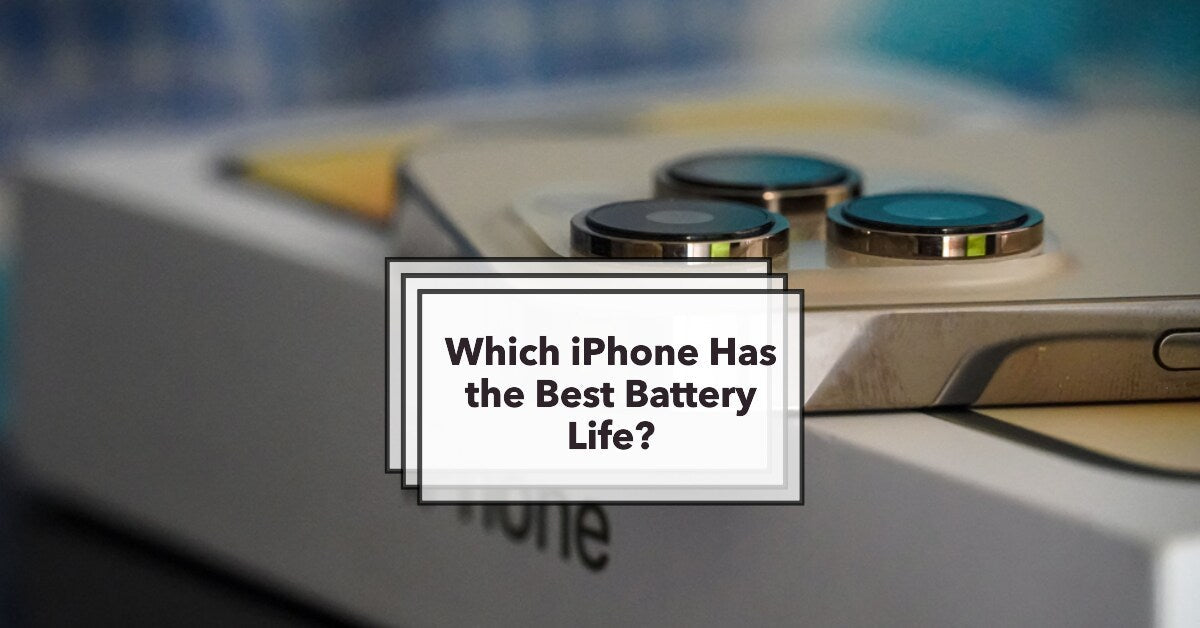 Which iPhone Has The Best Battery Life? [2023 Update]
We've all heard the saying, "Time is money."

But when it comes to iPhones, time is power.

The iPhone 14 Pro Max has been hailed as the device with the longest average battery life of 13 hours and 7 minutes - a device providing unrivalled power in an age where connectivity is everything.

But how does the rest of the iPhone lineup measure up against the king of battery life?

Read on to find out more about the iPhones with the best battery life and discover just how much power you can expect to have at your fingertips.

Ready to join the circle? Check out our refurbished iPhones to save big and upgrade your experience today!
Is the Battery Alone Enough to Justify Upgrading to The iPhone 14 Range?
Your battery life isn't going to be drastically different from what you're used to if you're looking to upgrade your phone to an iPhone 14 model.
So if you're looking to swap your old device for a sleeker, newer model, then it's definitely worth considering other factors like processing power, storage capacity, and camera quality.
If you already have an iPhone 13 or later, you don't necessarily need to rush out and upgrade — at least not for the sake of better battery life.
If you have an iPhone 12 or older, upgrading to the iPhone 14 may be worth considering, especially when you consider that older iPhone devices will likely not be supported by future iPhone software updates in the future.
iPhone Battery Life Compared: How Does It Differ Between the Models?
iPhones offer some of the best battery life when it comes to smartphones. But how does battery life compare between models?

The likes of the iPhone 14 Pro Max promise even better performance, but does it come out on top as the iPhone with the best battery life?
Let's take a look:
Note: Battery life can vary based on usage and other factors. The times listed are based on Apple's official specifications.

As you can see, the iPhone 14 Pro Max has the best battery life of all the iPhones listed, with a respectable 13:07 hours.

Anyone with an older model may therefore wish to upgrade in search of a longer battery life.
But if you're choosing to upgrade based on this factor alone, it's probably not worth it.

That said, if you're upgrading from an older model, like the iPhone 7 or 8, then you will certainly benefit from a longer battery life with any of the newer models.
What Is Apple's Battery Technology Like in 2023?
Before we get into the battle of the iPhone batteries, it's important to understand where we're at with charging technology and battery capacity in 2023.
It's no secret that Apple has remained ahead of the curve with mobile phones and modern technology - and their batteries are no exception.
In 2018's release of iOS 11.3, a new feature called Battery Health was introduced. It gives a detailed breakdown of how much life is left in your battery and how much longer it can deliver maximum battery performance. 
Apple has always been a leader when it comes to battery innovations. They were the first to introduce wireless charging and fast charging capabilities.
Apple also introduced fast charging for all iPhones in 2020, allowing you to charge up your phone from zero to 50% in just half an hour!
Be mindful that battery life isn't a one-size-fits-all kind of thing - it may differ between iPhones depending on how you use it, its age and other influencing factors.
If you're not always glued to your phone, playing games or mindlessly scrolling through Instagram, then your battery life will last longer than those who are.
The iPhone with the best battery life is... the iPhone 14 Pro Max
Average battery life: 13 hours 7 minutes
Best features: Fast performance, outstanding battery life, brilliant camera and scratch-resistant glass

Are you always on the go?

Do you need a phone that's as ambitious and hardworking as you are?

Then meet your match - the iPhone 14 Pro Max.

It's the ultimate powerhouse with solid battery life to keep up with you no matter what.
 
It even gives last year's iPhone 13 Pro Max a run for its money, which previously took the crown for the iPhone with the longest battery life.

Enjoy the all-new Superb 48MP camera for stunning photos, an Always-on display for instant updates and notifications, and Impressive Action mode for those breathtaking videos.

With over 13 hours of average battery life, the iPhone 14 Pro Max is the perfect phone for those who need their device to keep up with their lifestyle.
The runner up: The iPhone 13 Pro Max
Average battery life: 12 hours 16 minutes
Best features: Fast performance, great battery life, brilliant camera and scratch-resistant glass

The iPhone 13 Pro Max is a glorious phone in many ways, battery life being one of them.

In our experience, this phone boasts around 12 hours of battery life on a single charge. 

That's enough to keep you going all day and into the evening if you need it.

According to experiments carried out by phone reviewers, the iPhone 13 Pro Max streamed a continuous video at full-screen brightness for 20 hours and 18 minutes!

If you're a heavy user who spends a lot of time streaming videos or playing games on your phone, this phone will easily last you through the entire day - and then some.

This battery is known to outlast the iPhone 12 Pro Max by 2.5 hours, smash the iPhone 13 Pro by 1-2 hours and ultimately takes the crown as the best iPhone to date in terms of battery capacity.

If you're someone who loves to stay connected, this phone is for you. 

This is an amazing phone for those who are always on the go and don't have time to waste charging their phones. 

Save yourself some money and grab your perfectly like-new iPhone 13 Pro Max at ur today!
In third place: iPhone 13 Pro
Average battery life: 12 hours
Best features: 12MP dual rear camera system, 120Hz display

Last but not least, the iPhone 13 Pro is a great choice for people who want to stay connected and multitask without worrying about their battery life.

This phone provides good performance, with a 120Hz display and a fantastic dual rear camera system.

With an average battery life of 12 hours, you can rest assured you'll be able to power through your day without having to worry about running out of juice.

For one of the best iPhones for battery life on the market today, get your hands on a refurbished iPhone 13 Pro at ur.co.uk today.
We've got just what you're looking for… the best-refurbished iPhones on the market