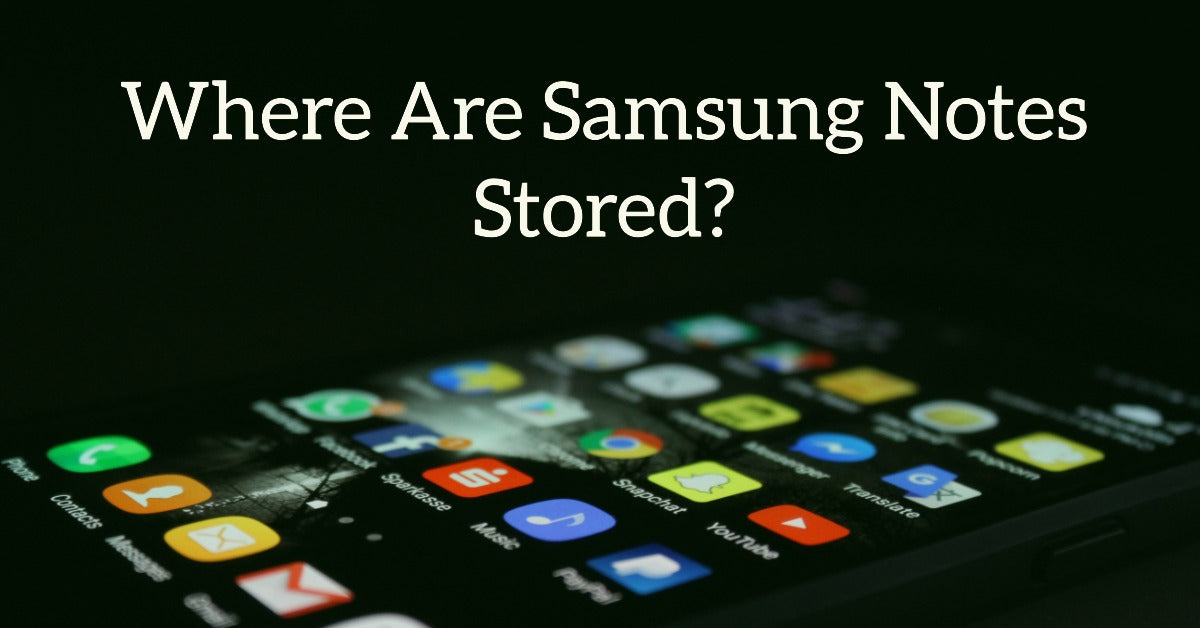 Where Are Samsung Notes Stored? Your Ultimate Guide for 2023!
Ever find yourself pondering where your Samsung Notes actually live? Let's clear that up.
Your Samsung Notes are primarily stored in your device's internal storage or MicroSD card, but they can also be synced and stored in your Samsung Cloud account.
Knowing this might seem trivial, but it's crucial when those notes contain your master plans, crucial reminders, or even your famous homemade salsa recipe.
Before we dive deeper, here's something for Samsung enthusiasts: eyeing an upgrade but not the price tag?
Check out the range of refurbished Samsung devices on ur.co.uk. Quality and affordability can indeed go hand-in-hand!
Now, let's get back on track and dive into the nitty-gritty of Samsung Notes storage.
Understanding Samsung Notes and Its Storage
The Samsung Notes app, pre-installed on your Samsung device, serves as more than just a simple note-taking tool. It's a hub where your brightest ideas, important reminders, and quick memos coexist.
The notes you create here are primarily saved in the internal storage of your Samsung device.
However, to ensure they're secured even when your phone loses data, it's crucial to sync and backup Samsung notes to your Samsung Cloud account.
Syncing and Backing Up Samsung Notes to Samsung Cloud
Samsung Cloud is the ultimate cloud storage solution, specially designed for Samsung phones. 
To enable sync and auto backup settings for your notes:
Open the Samsung Notes app.
Select Settings from the drop-down menu.
In the Settings menu, enable Sync and Auto Backup.
This process ensures that all your notes are safely backed up in the Samsung Cloud, accessible anytime, anywhere.
Accessing Samsung Notes from the Cloud
Accessing your backed-up notes is pretty straightforward:
Go to the Samsung Cloud Drive via your Samsung account.
Select Samsung Notes from the list of app data.
All your notes should be viewable here.
Transferring Samsung Notes to a New Device
When upgrading to another Samsung device (or even an iPhone), transferring your data, including your notes, is a priority.
The Smart Switch app, a reliable phone transfer and backup tool, can make this process seamless.
Using the Smart Switch App
Ensure both devices have the Smart Switch app installed.
Launch Smart Switch on both phones.
Connect the two devices wirelessly or with a USB cable.
Follow the on-screen instructions to select and transfer your data, including Samsung notes files.
Another way to transfer notes is via Samsung Cloud:
On your new device, log in to the same Samsung account.
Select 'Settings' and then 'Samsung Cloud'.
Select 'Restore Data' and choose 'Samsung Notes' to restore your notes.
Exporting Samsung Notes: Made Simple
The Samsung Notes app also allows you to export your notes as a PDF file or an image file. 
To do so:
Open the note you want to export.
Tap on the 'Share' button and select 'Save as file'.
Choose between 'PDF file' and 'Image file'.
Select the location for the saved file (this can be your Google Drive or internal storage).
Backing Up Samsung Notes to a Windows PC
Samsung also offers the ability to backup and access Samsung notes from a Windows PC using the Microsoft Store's version of Samsung Notes:
Connect your Samsung device to your PC with a USB cable (ensure USB debugging is enabled).
Install Samsung Notes from the Microsoft Store on your PC.
Log in to your Samsung account and select 'Sync' to view and manage your notes.
Remember, regular backups are crucial to prevent lost data. It's important for Samsung users to know how to manage, backup, and transfer Samsung notes.
Whether you're moving to a new device, keeping your data safe, or preserving your brilliant ideas and important reminders, these skills will come in handy.
Google Sync: An Additional Layer of Backup
While Samsung Cloud offers a seamless backup experience, diversifying your backup strategy can add an extra layer of data protection. This is where Google Sync comes into play.
Google Sync, once enabled on your Samsung Galaxy device, automatically syncs your Samsung data, including Samsung Notes, with your Google account.
Steps to Enable Google Sync
Go to the Settings menu on your Samsung device.
Scroll down and select 'Accounts and backup'.
Choose your Google account under 'Accounts'.
Enable the 'Sync account' option.
Now, your Samsung Notes, along with other Android data, will be synced with your Google account, providing another means to access your notes, especially useful if your phone loses data.
Transferring Samsung Notes to a Non-Samsung Device
What happens when you decide to switch from a Samsung phone to a new Android phone or even a new iPhone? Fret not.
You can export Samsung Notes to your new device with ease by following the steps below:
Steps to Transfer Samsung Notes to a New Samsung Device
On your Samsung device, open Samsung Notes and select the notes you want to transfer.
Export the selected notes as a PDF or image file.
Save these files to Google Drive.
Access Google Drive on your new Samsung device and download the notes.
Steps to Transfer Samsung Notes to a New iPhone
Use the same steps as above to export and save your notes to Google Drive.
Download the Google Drive app on your new iPhone.
Access and download your notes from Google Drive.
Samsung Notes: A Seamless Part of Your Digital Life
Whether you're brainstorming ideas, jotting down a quick shopping list, or noting a friend's book recommendation, Samsung Notes is there to help.
And with a clear understanding of where these notes are stored, how to back them up, and how to transfer them, you can use this handy app to its fullest potential.
Samsung Notes is more than an app; it's a companion that carries your thoughts, ideas, and reminders.
So, the next time you pull out your Samsung phone to jot down a quick note, you'll know that it's safely stored and easily retrievable, regardless of where your digital journey takes you.
Remember, whether you're using a brand-new phone or a refurbished Samsung device, these methods apply.
So, enjoy the convenience and peace of mind that comes with understanding your Samsung Notes storage. 
Stay curious, stay connected, and keep those ideas flowing!
More Samsung Articles