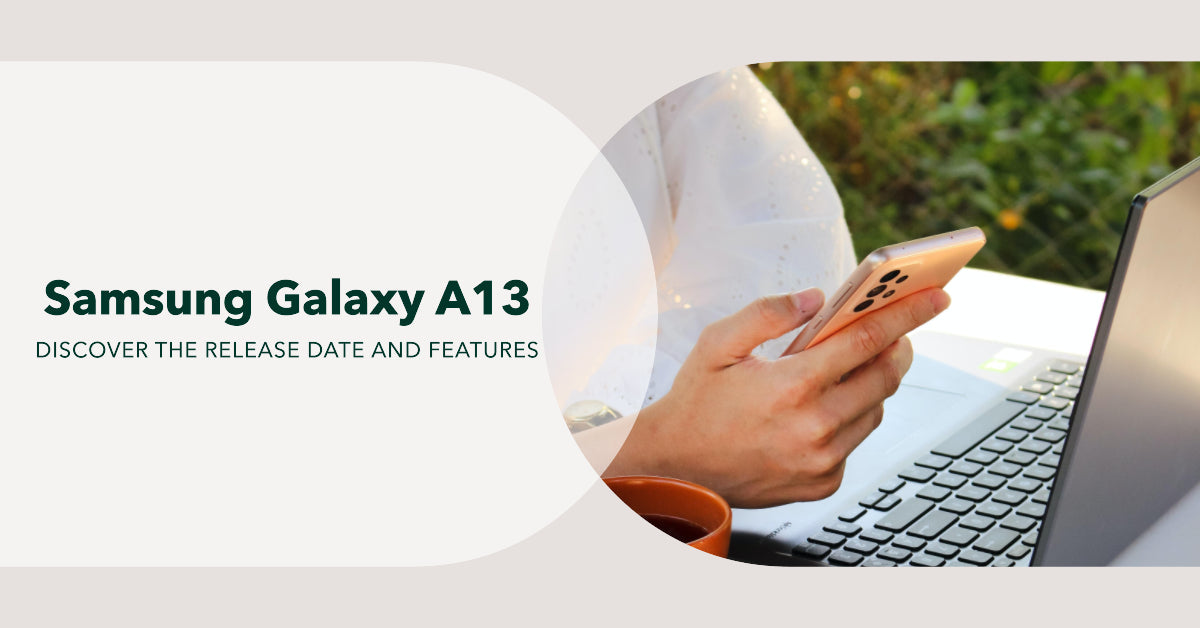 When Did The Samsung A13 Come Out? - A Closer Look at A Budget Hit!
Cast your mind back to March 2022 when Samsung's Galaxy A13 first came on the scene.
With its killer combination of features and budget price, this phone quickly built up a fanbase. It's got all the power and specs you'd expect from a much pricier mobile.
But hold up before you buy new - have you considered refurbished?
The team at ur.co.uk refurbish A13 handsets to look and work like they're fresh out of the box - but they cost way less than brand new!
So if you want Samsung quality without maxing out your credit card, go refurbished.
Check out ur.co.uk's certified refurbished Samsung Galaxy A13 deals now and save. Or continue reading to learn more about this awesome device!
Key Takeaways
The Samsung A13 was released in March 2022.
With various storage options available (32GB-128GB) plus expandable storage, it offers a wide choice to users.
Impressive specs include a quad-camera setup and a robust 5000 mAh battery.
Available in Black, Blue, and White.
Samsung Galaxy A13 - An Overview
Samsung unveiled the Galaxy A13 in March 2022 to great fanfare. As the latest addition to the company's popular A Series lineup, the phone delivered improvements over previous models like the A12.
After months of hype and rumors, Samsung finally unveiled the Galaxy A13 in March 2022 to great excitement. 
As the latest addition to their popular A Series lineup, it improved upon previous models like the A12 with seriously upgraded specs.
For shoppers seeking premium phone performance on a budget, the global announcement was a big deal. 
With robust capabilities like a 50MP quad camera and massive 5000mAh battery, the A13 proved you don't need to spend big to get big features.
Its price tag hit a sweet spot between quality and cost. For techies with champagne tastes on a beer budget, the release gave them a clear upgrade path.
The A13's launch brought Samsung-caliber abilities to the mid-range market. Clearly, they designed this smartphone to shake up the budget realm. 
But what exactly makes it so special? Let's find out!
A Powerful Octa-Core Processor for Smooth Performance
Under the hood, the Samsung A13 packs a serious punch thanks to its octa-core processor and up to 6GB RAM. This muscle allows it to juggle demanding tasks without stuttering or lag.
Gamers can battle without frustrating hang-ups. Video streamers can binge their favorite shows seamlessly. And busy multitaskers can flip between apps with ease.
The A13 delivers fluid responsiveness across the board, not sluggish performance. 
And with generous 32GB, 64GB or 128GB base models, plus a microSD card for expandability up to 1TB, you'll never run out of onboard storage space.
Vivid Visuals with the 6.6" FHD+ Display
One of the first things you'll notice about the Galaxy A13 is its expansive 6.6-inch Infinity-V display. The eye-catching FHD+ screen serves up brilliant colours and crisp 1080 x 2408 resolution.
Whether you're creating content, gaming, or binging YouTube, the A13's display draws you in with its incredible detail and vibrancy. Entertainment comes to life on the ultra-wide front camera.
The Infinity-V design also minimises bezels for a smooth, edge-to-edge look. And by using scratch-resistant Gorilla Glass 5, Samsung built this display to withstand daily use.
Snappy Shots with the Versatile Quad Lens Setup
On the camera front, the Galaxy A13 goes big with its versatile quad lens setup. 
The four rear lenses allow you to capture vivid, share-worthy photos and videos in various conditions.
The 50MP wide angle lens takes crisp, detailed shots even in low light. Meanwhile, the 5MP ultra-wide lens fits more of your surroundings into every frame.
Rounding out the system, 2MP macro and depth lenses let you get creative with portraits, landscapes, and close-ups. Even the 8MP selfie camera impresses with clear shots.
From wide panoramas to macro details, the A13's optics help you take your photography skills up a notch. And with built-in flash, you can brighten up low light shots.
For a budget phone, the A13 offers amazing shooting versatility. Your memories will come to life in vibrant 4K video and detailed stills.
A Massive 5000mAh Battery for Marathon Usage
One of the A13's most impressive features is its robust 5000mAh battery. Even with heavy use, you can easily sail through one or two full days before needing a recharge.
The mammoth battery ensures you won't get stuck low on power when you need your phone most. And thanks to 15W fast charging, you can quickly top up the battery when running low.
With this stellar battery/charging combo, the A13 offers serious staying power. No more constantly hunting for chargers or sweating dwindling battery life.
A Striking, Durable Design Built to Last
Beyond its stellar of performance and battery life, the Galaxy A13 sports an eye-catching design that feels great in hand. Its smooth rounded corners and minimal bezel cut a sleek, modern profile.
On the back, cool geometric patterns below the main camera module add flair. And colour options like Black, Blue, and White give you a touch of personalisation.
The sturdy plastic back and frame provide a solid feel while keeping weight down. And the handy side fingerprint sensor enables fast, natural unlocking.
Between its glossy colours and resilient build, the A13 blends good looks with durability. For the price, buyers get a good deal on beauty, brains, and brawn.
One UI 4.1 Offers a Friendly and Flexible Interface
On the software front, Samsung's polished One UI 4.1 based on Android 12 launched on the A13. This intuitive interface makes accessing all the device's features a breeze.
One UI's clean design surfaces key settings when you need them. Customisable widgets and themes let you tailor the look your way. And handy tools like multi-window support increase productivity.
Powerful functionality like Samsung Knox defense-grade security and AI-powered performance optimization also come standard.
For both new and experienced Galaxy users, One UI 4.1 helps you harness the A13's full potential. The user-friendly software quickly feels like an old friend.
Seamless Wireless Connectivity for Work and Play
Like any modern smartphone, the Galaxy A13 offers versatile wireless connection options. Its ability to link up with other devices and networks expands its capabilities.
Built-in Wi-Fi and Bluetooth provide cable-free pairing with headphones, speakers, laptops, and other gadgets. NFC enables swift connections between the A13 and other NFC-equipped devices.
With 4G LTE support and a dual SIM card slot, you stay connected while traveling abroad or juggle personal and business lines in a single device.
And with A-GPS support, accurate navigation from apps like Google Maps is a breeze. Overall, the A13 brings flexible communication power.
A Strong Contender Among Affordable Smartphones
Since its release, the Galaxy A13 has earned well-deserved buzz for bringing premium phone performance to a budget price point. It strikes an appealing balance of features, power, and value.
For shoppers seeking serious smartphone abilities without paying flagship prices, the A13 delivers. It packs zippy speed, brilliant visuals, versatile shooting, and ample battery life into an affordable package.
From crystal-clear selfies to immersive streaming, this device lets you do it all. And given its long-term software support, the A13 will stay fresh and capable for years to come.
So if you want impressive smartphone specs without emptying your wallet, put this Samsung phone on your radar. 
With all it offers for the money, the A13 is a top contender among mid-range mobiles.
A Compelling Option for Certified Refurbished Shoppers
For bargain hunters considering a certified refurbished A13, sellers like UR offer exceptional value. 
Our fully restored Galaxy A13 models pass a rigorous 90-point inspection and come backed with a 12-month warranty.
So you get the same crisp 6.6" screen, nimble performance, and quad camera capabilities as new models, but at discounted prices. Plus, we throw in £45 of free accessories with your order!
As an added perk for eco-conscious shoppers, UR plants a tree with every purchase. So buying refurbished from them makes a positive impact.
With its rock-solid warranty, generous bundle, and money-back guarantee, a UR certified refurbished A13 presents serious value. 
You score premium Samsung quality at budget-friendly prices!
The A13 Deserves a Spot on Your Shopping Shortlist
After taking a comprehensive look at the Galaxy A13, one thing is clear - this budget phone packs a serious punch.
Since its 2022 release, it has earned well-deserved attention for bringing premium performance to a reasonable price point.
For shoppers wanting Samsung excellence without sky-high costs, the A13 should be on your radar. It delivers fluid speed, an immersive display, versatile photography skills, and marathon battery life.
So if you seek flagship-level features in your next affordable mobile device, don't overlook this standout. The A13 has everything you need to power through tasks and play with no limits!
Now that you know what the A13 offers, you can decide if it's the right wallet-friendly choice for you.
With its compelling blend of functionality and value, this smartphone makes a strong case for savvy budget buyers.