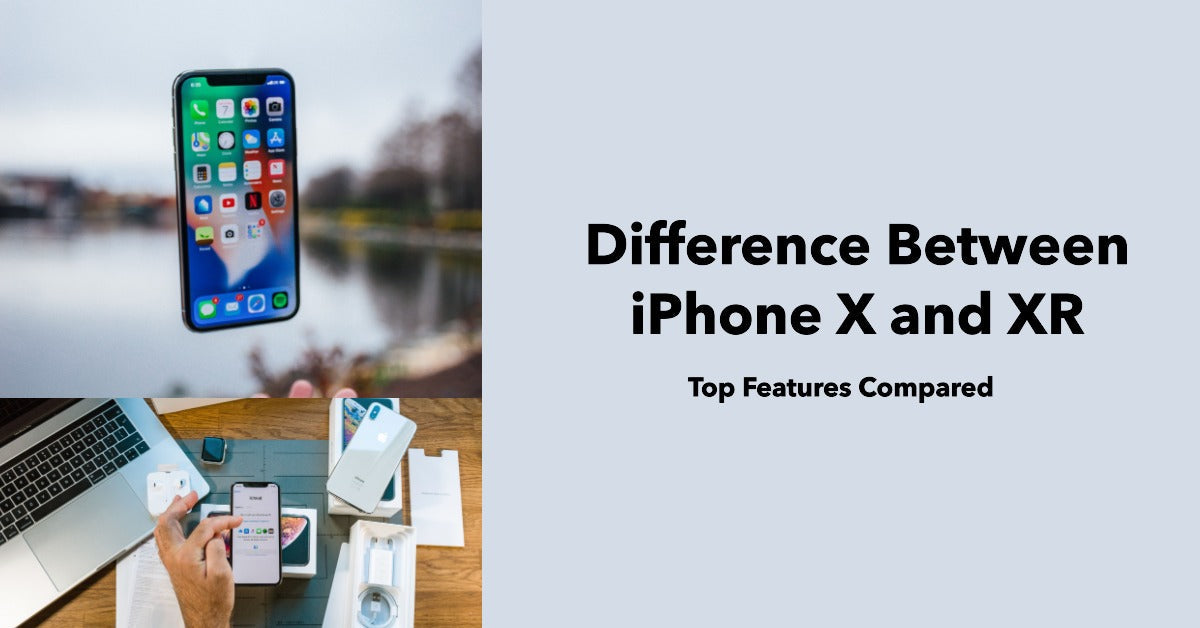 Difference Between iPhone X and XR: Top Features Compared in 2023
Are you piqued by the prospect of choosing between two of the most coveted devices by Apple?
Explore the essential contrasts between the iPhone X and iPhone XR in our captivating guide!
With prices beginning at a mere £179.95, you can indulge in top-notch Apple features without stretching your wallet.
Will you opt for the cost-effective, newer iPhone XR or the classic elegance and exceptional camera capabilities of the iPhone X?
Determine the perfect match for your preferences in our thorough analysis and seize the fantastic deals at ur today!
Specs of the iPhone X and iPhone XR
| Feature | iPhone X | iPhone XR |
| --- | --- | --- |
| Display Size & Type | 5.8-inch OLED | 6.1-inch LCD |
| Screen Resolution | 1125 x 2436 pixels | 828 x 1792 pixels |
| Display Quality | Deeper blacks, higher pixel density | True Tone technology |
| Physical Design | Metal frame, glass back, wireless charging | Metal frame, glass back, wireless charging |
| Camera | Dual-lens with optical zoom | Single lens with AI features for depth control and portrait mode |
| Storage Options | 64GB, 256GB | 64GB, 128GB |
| Battery Life | Up to 21 hours talk time | Up to 25 hours talk time |
| Face ID | Yes | Yes |
| Water Resistance | IP67 rating | IP67 rating |
| Processor | A11 Bionic chip | A12 Bionic chip |
| Colours | Silver, Space Gray | White, Black, Blue, Yellow, Coral, Red |
Apple iPhone X and iPhone XR: At A Glance
Similarities
Smart HDR rear cameras
Portrait mode
Wireless charging capabilities
Differences:
iPhone XR has a longer battery life
iPhone XR features a larger 6.1" LCD screen, while the iPhone X has a 5.8" OLED display
Slight variations in camera performance and clarity
iPhone XR offers six vibrant colour options, while the iPhone X has two aluminium finishes
Ultimately, your decision hinges on personal taste and budget constraints. Both models are driven by Apple's A12 Bionic chip, ensuring a smooth user experience.
Weigh these factors and select the ideal iPhone tailored to your lifestyle!
Best Refurbished iPhone X and iPhone XR Deals in 2023
Both the iPhone X and XR still stand strong as two of the most popular iPhones on the market, even in 2023.
And when you choose ur, you get the best refurbished iPhone X and iPhone XR deals guaranteed.
That's not to mention our 30-day money-back guarantee, a 12-month warranty, 12 months of free insurance, and £45 worth of accessories included with all devices!
Choose from the following grades when purchasing a device from ur.
| Condition | Description |
| --- | --- |
| Good | Light but visible scratches on the body and screen |
| Excellent | Minimal signs of previous use |
| Premium | Virtually brand new, flawless appearance |
iPhone X Deals at ur in 2023
| Model | Good | Excellent | Premium |
| --- | --- | --- | --- |
| 64GB | £179.95 | £209.95 | £229.95 |
| 256GB | £204.95 | £239.95 | £259.95 |
iPhone XR Deals at ur in 2023
| Model | Good | Excellent | Premium |
| --- | --- | --- | --- |
| 64GB | £179.95 | £209.95 | £239.95 |
| 128GB | £199.95 | £229.95 | £259.95 |
Design Differences: Build Quality, Size, and Color Options
Build quality, size, and colour options are crucial aspects when it comes to deciding between the iPhone X and iPhone XR.
In terms of build quality, both phones boast a premium feel with metal frames.
However, there is a difference in materials used: the iPhone X features stainless steel that gives it an ultra-premium look and sturdiness compared to the slightly lower-quality aluminium in the iPhone XR's frame.
Size-wise, these two iPhones have distinct characteristics as well.
The more compact iPhone X has an OLED screen measuring 5.8 inches diagonally (1125 x 2436 pixels).
Its counterpart, on the other hand, the iPhone XR, offers a larger LCD display at 6.1 inches (828 x 1792 pixels).
Colour options will also play a significant role in personalisation when deciding between these models; Apple expanded its palette for newer devices like the iPhone XR by offering six vibrant hues, including Red, Yellow, and Blue, against just Space Gray or Silver for the iPhone X.
To sum up, differences regarding build quality, pocketability & colour options should serve as key points when considering the iPhone X or its newer brother, the iPhone XR.
Camera Comparison: Which Phone Comes Out On Top?
Do you find yourself divided between the iPhone X and iPhone XR when it comes to photography?
The latter might be the newer smartphone on the block, but the iPhone X still holds its own with a second lens that enables an exquisite portrait mode with a beautifully blurred background.
While the iPhone XR also boasts its own portrait mode, sometimes software-driven effects can leave shutterbugs wanting more.
Therefore, if camera performance is important to you, it's clear that the iPhone X edges it over the iPhone XR.
That's not to say the iPhone XR is a bad choice, though, as its camera still offers impressive performance and offers features like Smart HDR. It all comes down to personal preference!
Comparing iPhone X Battery Life and Display with the iPhone XR
Indulge in an all-encompassing cinematic journey with the iPhone XR and its 6.1" display!
While the 5.8" screen of the iPhone X is a marvel, the XR's larger screen brings content and videos to life like never before.
The OLED display of the iPhone X boasts beautiful colours and impeccable resolution – but you can't ignore the additional screen real estate of the XR.
And that's not all – the XR also offers an impressive battery life! Browse away for up to 13 hours on this device, while the iPhone X only promises 10.
The OLED display does add to the aesthetic appeal, but it does require more power and thus lessens battery efficiency.
If what you seek is a gorgeous display and extended battery life, then look no further: the iPhone XR could be the perfect choice for you.
Conclusion: iPhone X vs iPhone XR: Which Should You Choose?
The iPhone X and the iPhone XR offer a wide range of features that make them both excellent options for mobile users.
The OLED display of the X offers superior image quality, its dual-lens camera allows for optical zoom with portrait photos, and its vibrant Space Grey metal frame and glass back make it a sleek device.
In contrast, the Apple iPhone XR is equally well designed with a larger screen size, True Tone technology, an improved Smart HDR technology, and face detection advances that offer greater depth control over portrait mode shots.
Both phones process power efficiently, are available in a variety of storage capacities, and have wireless charging capabilities.
Ultimately, your choice may boil down to having double the cameras on the X or better performance on the XR.
Whatever you choose, you can take comfort in knowing you're getting one of the best iPhones ever made.
Browse our range of refurbished iPhone X and iPhone XR devices and get the best deal guaranteed!
If you're in search of a quality yet budget-friendly iPhone, look no further than our selection of refurbished iPhone X and iPhone XR devices.
Both models have something to offer: the X has a dual-lens rear camera and OLED display, while the XR offers a single-lens rear camera, LCD display, longer battery life, dual SIM support, and six colour choices.
Enjoy features like portrait mode and Apple's Smart HDR capability with either model, so choose what fits your criteria and grab the best deal on refurbished iPhones guaranteed right here at ur!