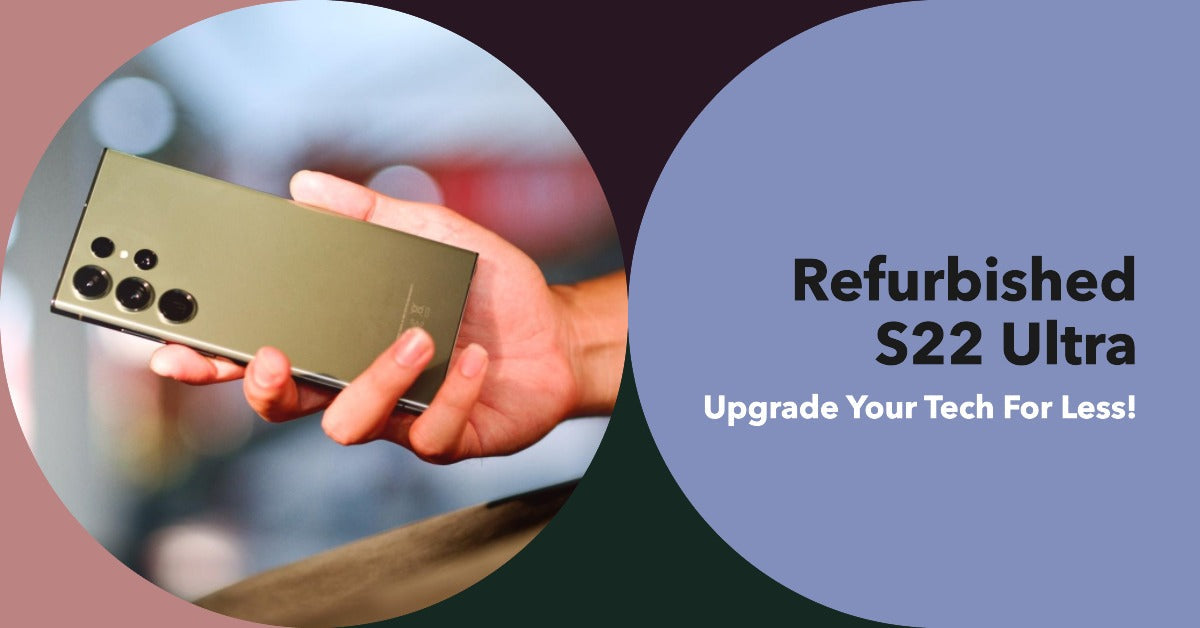 Refurbished Samsung S22 Ultra: Upgrade Your Tech for Less in 2023
Looking to upgrade your tech game in 2023?
With a refurbished Samsung S22 Ultra from ur.co.uk, you can save big without compromising on features:
Built-in S Pen for seamless creativity
Vibrant 6.8" display for stunning visuals
Quad Camera with exceptional low-light performance
Sleek and stylish design
Rapid 45W charging for on-the-go convenience
Who says you need to break the bank when you can have it all - power, performance, and style – at a great price (and a fraction of the price of an S23 Ultra!).
Shop now at ur.co.uk and get the best deal on a refurbished Samsung S22 Ultra.
Refurbished Samsung Galaxy S22 Ultra: A Quick Overview
Introducing the Samsung S22 Ultra - a phone that puts all of the latest technology at your fingertips.
With its enhanced S Pen built in, you can unlock an unprecedented level of creativity and take your ideas to the next level.
A super bright 6.8" Quad HD+ display screen ensures visuals are sharp and clear for unlimited possibilities, while its advanced quad-camera system delivers some of the brightest and clearest photos imaginable on a smartphone.
Plus, it boasts one of the longest battery life ever in a Galaxy smartphone. Rapid 45W charging means your handset will be ready to go at a moment's notice.
Get all of this and more with a refurbished Samsung S22 Ultra – combining sleek design with cutting-edge features and power performance in one unbeatable package.
9 Reasons To Buy a Refurbished Samsung Galaxy S22 Ultra from UR
The Samsung Galaxy S22 Ultra is undoubtedly one of the most powerful smartphones to hit the market in recent years.
And in 2023, it remains one of Samsung's fastest and most premium Galaxy devices.
If you're not already convinced, here are 9 reasons why a refurbished Samsung Galaxy S22 Ultra is still a top buy in 2023 and beyond.
1. Premium Specs At The Fraction Of The Cost of a Galaxy S23 Ultra
Galaxy smartphones have become increasingly expensive in recent years, with phones such as the S23 Ultra demanding a hefty price tag.
But when you consider that a certified refurbished Samsung Galaxy S22 Ultra is available at a fraction of the cost, it's easy to see why this device is still so attractive.
As one of Samsung's fastest devices to date, you can rest assured The Galaxy S22 Ultra still gives many new devices on the market a run for their money - even after the release of its successor, the S23 Ultra.
So why pay a premium for a brand-new phone when you can get the same specs with a certified refurbished phone?
Not only will you save a pretty penny, but you'll also be able to experience all the power and performance of the S22 Ultra.
2. Receive a Professionally-Checked, Quality Guaranteed Product
When you purchase a refurbished Galaxy S22 Ultra from ur, you get more than just one of the best deals on a Samsung phone around.
You get peace of mind knowing that each phone has undergone a comprehensive 90-point check by our qualified in-house technicians and is Phonecheck certified.
Plus, with a 12-month warranty and 12 months of free insurance, a minimum of 80% battery health, and £45 worth of accessories, including a charger and charging cable, you're guaranteed top-level quality at unbeatable prices.
3. Reduce Electronic Waste and Minimize Your Environmental Impact
Go green, save big.
Invest in a refurbished Galaxy S22 Ultra, and you'll not only be helping to reduce waste and minimize environmental impact, but you'll also be getting a cutting-edge and ultimate smartphone experience - without the premium price tag.
A refurbished Galaxy S22 Ultra from ur is equipped with everything you need and more - from its stunning 108-megapixel camera to a powerful processor offering exceptional performance no matter what you throw at it.
Step up your game and join the Galaxy range and experience the future of smartphones today - all while doing your bit for the environment.
4. Capture Stunning Photos with Exceptional Camera Capabilities
The Samsung Galaxy S23 Ultra may feature an incredible 200MP primary camera, but that doesn't mean you have to miss out on being able to take stunning shots and crystal-clear images.
The Samsung Galaxy S22 Ultra's 108 MP camera remains a powerhouse, and with its powerful image sensor, you can take incredible photos with vivid colours and extraordinary detail - from landscapes to portraits to stunning night time photos and everything in between.
And for those videographers amongst us, the S22 Ultra also supports 8K video capture - proving that you don't need to be a professional photographer to take advantage of this impressive device.
5. Stay Protected with A 12-Month Warranty and 12 Months of Free Insurance
When you buy a refurbished Samsung S22 Ultra from ur, you can do more than stay connected—you can stay protected.
Our comprehensive 12-month warranty and 12 months of FREE insurance provide complete peace of mind, so you can enjoy the ultra-responsive Galaxy S22 Ultra in all its glory.
Who says you can't have it all? With UR, you really CAN!
Not only will you get a great deal on the refurbished S22 Ultra, but you can also rest safe knowing that you're in the best hands.
6. Stay Productive on the Move with An Embedded S-Pen
There's no doubt that the Samsung Galaxy S21 Ultra was (and still is) an amazing device.
But the S22 Ultra takes it to the next level with a multifunctional S pen embedded in the phone, giving you an easy way to stay productive on the move.
No longer will you have to carry around a separate pen. 
Simply take out the S pen from your Galaxy S22 Ultra, and you can quickly jot down notes, draw sketches or write emails with ease.
And if you're in a rush, don't worry – the S-Pen works great even when used on the go. So whether you're at home or away from your desk, you'll never miss a beat with this incredible feature.
7. Immerse Yourself in A Truly Cinematic Experience
Get ready to experience the incredibly immersive display of the Samsung S22 Ultra. Its Dynamic AMOLED 2X display boasts a whopping 120Hz refresh rate and a peak brightness of 1750 nits.
With an expansive 6.8 inches, 114.7 cm2 display and a resolution of 1440 x 3088 pixels at 500ppi density, you'll feel like you're actually in the action!
Protecting this incredibly beautiful display is Corning Gorilla Glass Victus+, so no need to worry about any damages or scratches.
So when it comes to stunning visuals, Samsung Galaxy S22 Ultra got you covered by offering the ultimate viewing experience whether relaxing at home or on the go!
8. Long Lasting Battery Life to Keep You Going
Get ready to go the distance with the Samsung S22 Ultra. Boasting a whopping 5,000 mAh battery, this device is designed to keep going and going - offering you long-term reliability and impressive power without needing frequent charging.
When opting for a refurbished model from ur, our in-house technicians have tested each device thoroughly to guarantee 80% minimum battery health - ensuring you can keep up your daily routine with ease.
With the Samsung Galaxy S22 Ultra, you can rest assured that your device won't let you down even when undertaking heavy-duty multi-tasking!
9. Plenty of internal storage to store all your photos, videos, and apps
Whether you're a budding photographer, content creator, or avid gamer, the Samsung S22 Ultra offers plenty of storage to meet your needs.
With 128GB, 256GB, and 512GB options, you can keep all your apps, photos and videos in one place – no need to skimp on quality or delete an old favourite!
And with Samsung's advanced technology, rest assured that even your most precious data will be stored securely.
So go ahead: capture those special moments, download that new game, and upload your creations – the Samsung Galaxy S22 Ultra has got the storage it takes to do it all.
Samsung S22 Ultra Refurbished in 2023: Flagship Device, Unbeatable Price
The Samsung S22 Ultra perfectly bridges the gap between premium features and affordability, putting unlimited possibilities in the palm of your hand.
For just a fraction of the price of an S23 Ultra, you can experience all that this smartphone has to offer.
From its incredible PC-like performance, super smooth and vivid screen, outstanding cameras, and superior battery life to its cutting-edge software capabilities.
And with a wide range of devices available at ur.co.uk, there's never been a better time to join the circle and extend the life of a premium device.
So why wait? Check out our range of refurbished Galaxy S22 Ultra devices today – and get ready to experience what makes this device so great at a fraction of the cost.
FAQs
Should I consider an upgrade to the Samsung Galaxy S22 Ultra?
If capturing vivid nocturnal visuals, handling intense multitasking, and experiencing an exceptionally engaging camera are high on your list, the Samsung Galaxy S22 Ultra might be a worthy upgrade.
It brings fresh features and improvements that make it an attractive option for anyone seeking cutting-edge devices.
Which is superior, Samsung S22+ or Ultra?
While both the Samsung S22+ and S22 Ultra boast remarkable attributes, the Ultra caters better to intense multitasking demands and boasts a more sophisticated camera system for astonishingly engaging photography and vivid nighttime videos.
And you can still enjoy features such as Samsung Pay for quick and easy contactless payments by opting for the S22 Ultra over its sister device, the S22+.
Does the Samsung S22 Ultra outshine the iPhone 13 Pro Max?
The Samsung S22 Ultra and iPhone 13 Pro Max each have their strengths. The S22 Ultra excels in demanding multitasking scenarios and camera functionality, delivering exceptionally engaging imagery and vibrant nighttime footage.
Conversely, the iPhone 13 Pro Max is one of Apple's most advanced devices ever. It provides a seamless experience across Apple devices within their integrated ecosystem.
Individual preferences and priorities will dictate which device is the ideal choice.
Is the S22 Ultra a better investment than the S21 Ultra?
The S22 Ultra offers numerous enhancements over the S21 Ultra, including a more sophisticated camera setup for astonishingly engaging photography and vivid nocturnal video capture.
Moreover, the S22 Ultra boosts performance for intense multitasking situations. If these improvements are significant to you, it may be worth considering the S22 Ultra.
Why opt for a Refurbished Samsung Galaxy S22 Ultra rather than an S23 Ultra?
Choosing a Refurbished Samsung Galaxy S22 Ultra can be a budget-friendly alternative to the more recent S23 Ultra while retaining superb features such as vibrant nighttime video capture and powerful multitasking abilities.
All devices sold by ur.co.uk undergo rigorous testing to ensure their dependability and performance. If you're content with a slightly older model and wish to economise, a refurbished S22 Ultra may be a wise decision.