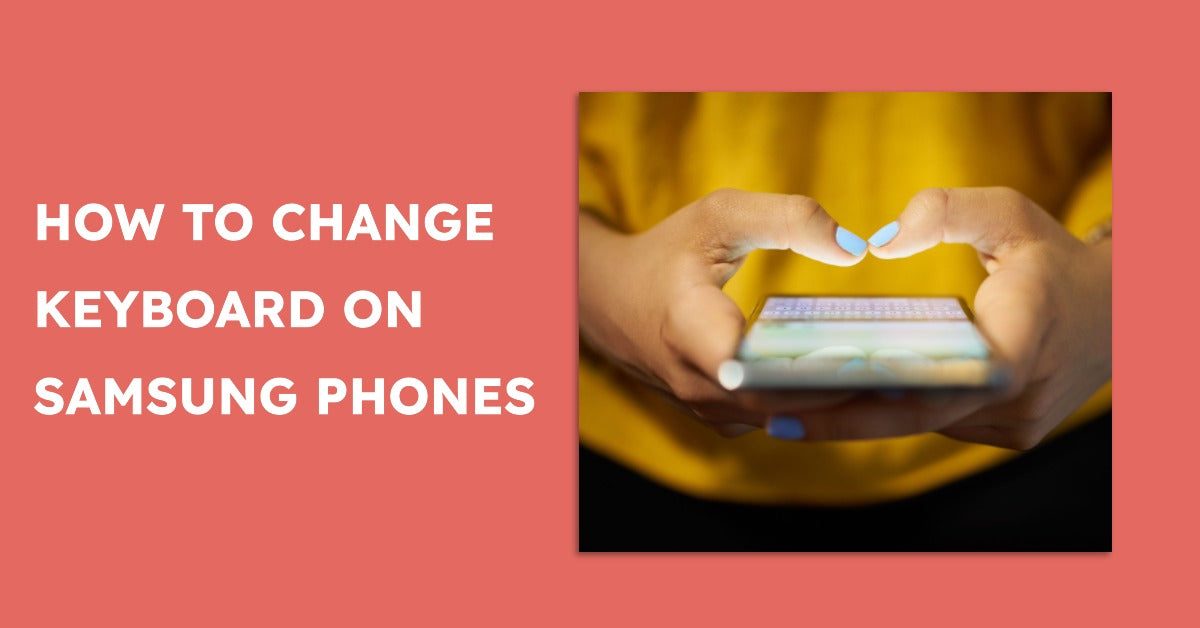 How to Change Keyboard on Samsung & Customise Your Typing Experience
Want to customise your typing experience on your Samsung Galaxy phone?
Whether you're looking for a new keyboard or want to change the sound and vibration settings, we've got your back!
In this guide, you'll find easy-to-follow steps to switch keyboards, covering everything you need to know, including:
Alternatives to the native Samsung keyboard
Enabling additional keyboard features
How to turn off the keyboard sound
Continue reading, and get ready to make your Samsung phone your own!
Choose ur.co.uk for the best deal guaranteed on Phonecheck-certified devices with 12 months of free insurance, a 12-month warranty, and £45 of FREE accessories with all devices.
What Are the Best Alternatives to the Default Samsung Keyboard?
Are you sick of the standard keyboard on your Samsung smartphone? If so, you're not alone. Many users find themselves frustrated with the standard settings and features.
Fortunately, there are several alternatives on the Galaxy Store and the Google Play Store to customise and switch up your typing experience.
Swiftkey, Gboard, and Chrooma are just a few of the third-party keyboards available - each offering user-friendly customisation, including:
Swipe typing
Google Translate integration
Latest emoji support
Word prediction and autocorrect
Download a new app and change the keyboard on your Android phone today - take your messaging game to a whole new level!
Customising The Keyboard on Your Samsung Device: 5 Easy Steps
Activating the Keyboard You Want to Use
Ready to get typing? Here's how you can customise your Samsung device with the keyboard of your choice.
Simply head to Settings > General Management > Language and Input > On-screen Keyboard.
There you'll be able to pick a stylish new look that suits your style - whether it's Gboard, SwiftKey or otherwise!
Adjusting Keyboard Settings
You've got your keyboard set up and ready to go - but why limit yourself? Take the time to personalise it with a few size adjustments.
With just a couple of clicks, you can make those keys fit like they were made for your fingers! Head to settings and toggle that "Keyboard Size" option until everything looks perfect.
And don't worry if things get too small or big; there's always something different waiting right around the corner!
Enabling Additional Keyboard Features
Ready to turbocharge your typing? You can unlock some awesome features for a faster, more efficient experience!
Start by enabling swipe typing — head over to the keyboard settings and toggle on that "Swipe Typing" option.
You could even try voice typing instead and dictate messages immediately!
Head back into those settings again and activate the nifty "Voice Typing" choice if that sounds like it'd be right up your street!
Choosing a Keyboard Theme and Colour Scheme
Are you looking to give your keyboard some extra flair? You can select a theme and colour scheme that gives it a personal touch.
With many options ranging from funky designs to subtle vibes, getting creative with your typing setup has never been more accessible!
Just head over to settings for themes and choose whatever catches your eye - it's as simple as that!
Setting Up Word Suggestions and Autocorrect
Typing can be a breeze when you use word suggestions and autocorrect!
When typing, let the words flow - thanks to automated corrections for typos and misspelt words, plus predictive text that guesses what comes next in any sentence.
No more tedious keystrokes; simply tap away with ease!
With these helpful features, your keyboard settings will come to life.
Troubleshooting Common Issues When Switching Keyboards
Having trouble typing? Don't worry, there are a few things you can do to get back up and running!
Start with ensuring your keyboard is up-to-date by checking for updates in the app store or settings.
Make sure it's compatible, too - nothing worse than lugging out an incompatible device.
If all else fails, restarting your gadget may help shake off those glitches - if not, customer support should have more tips on getting that perfect keystroke just right!
How to Turn Off Keyboard Sound on Samsung
Do you have a Samsung phone but don't like the sound of your keyboard key presses? Don't worry; it's easy to disable or customise the sound settings on your Samsung device.
Access your Settings app and search for ''keyboard'' to find the Default Samsung Keyboard option.
Once you open this, you can select ''Sound and Vibration'' and toggle off any sounds relating to typing, keypresses, or vibrations.
Within the Keyboard Settings, choose ''Keypress Sound'' to adjust or customise your keyboard sounds.
So if you don't want to hear every key pressed, follow these simple steps to disable keyboard sound on your Samsung device for a quieter experience!
Changing The Keyboard on Samsung Galaxy Devices: Final Thoughts
Whether you're rocking the premium S22 Ultra 5G, the budget-friendly Galaxy A51 5G, or otherwise, customising the keyboard on your device is easy and a great way to customise your typing experience.
The options range from enabling (or disabling) sound effects when you press a key, floating keyboards for one-handed use, different layouts for different languages, and so much more.
Dive into the settings, play around with all the features available, and don't be afraid to experiment - there's something for everyone!