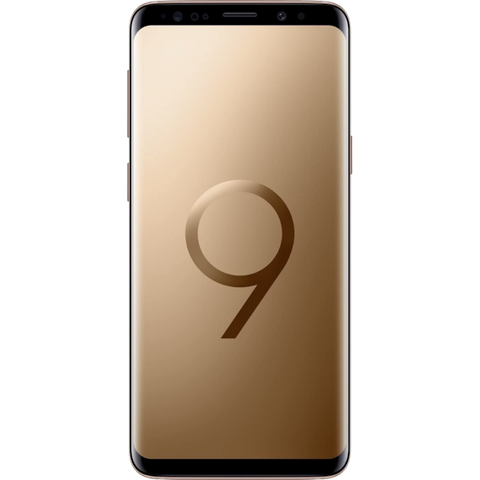 Samsung Galaxy S9+
This collection is empty
The Galaxy S9 Plus, Samsung's much-anticipated offering, features curved sides, an all-glass front and back design, and a massive 6.2-inch OLED infinity display. The Galaxy S9 Plus combines the greatest in technology, design, and user experience, with features like wireless charging, IP68 water, headphone jack, Oreo 8.0 operating system, fingerprint scanner, 128GB of storage space, and 6GB RAM. 
There's also a fantastic camera on board. The S9 Plus sports a fantastic 12MP dual-lens rear camera with a dual aperture for capturing high-quality photos even in low light. The 8MP front-facing camera is great for selfies, allowing you to take photographs that are sharp, detailed, and clear.
Refurbished Samsung S9 Plus Specifications  
- 6.2 inch display with super AMOLED capacitive touchscreen, 16M colours
- Resolution - 1440 x 2960 pixels, 18.5:9 ratio
- Available with 64, 128, or 256 GB internal storage and 6 GB RAM
- Rear Cameras - 12 MP wide lens and 12 MP telephoto lens and 8 MP front camera
- Ultra HD 4K Video recording
- Front/back glass (Gorilla Glass 5) and aluminium frame
- Range of colours - Midnight Black, Coral Blue, Titanium Grey, Lilac Purple, Burgundy Red, Sunrise Gold, Ice Blue and Polaris Blue.
What can I do with my old phone? 
We'll buy your old phone when you're ready for a new one. It's that easy.
Use your refurbished Samsung S9 Plus then return your phone to us at the end of the 15-month warranty period, and we'll give you the highest trade-in price possible. 
Not only does this benefit your wallet, but it also helps the environment. We plant two trees in honour of your good deed every time you return your phone to us.
Is it time to trade in your phone? Let's bring you up to speed.
Charging change with refurbished phones, planting trees with every purchase
We are aware that the world's resources aren't endless. We re-source because of this.
To us, bringing about positive change in the world entails more than just recycling and refurbishing technologies. It's all about making your mark, as well as ours.
By offsetting the carbon emissions of every phone purchase made on our site, we're on a goal to become a carbon-positive phone company. 
We'll plant a tree every time you buy a new phone, and we'll plant two more when you return it.
Extras that you won't find anywhere else
Do you want something for nothing? With every phone ordered, we'll include the following package of goodies worth £45 at no additional cost:
- Charging cable and 20W fast charging plug with a branded logo
- A 100% biodegradable phone case in the colour of your choosing
- Screen protector made of premium glass
- Cleaning cloth 
- Care instructions on the package
- SIM tray opener 
- Proof of the tree that was planted as a result of your purchase!
Join the ur Circle today - you'll never need to buy new again.
Stay in the loop
Once you're in the loop you won't want to leave.
Be part of our Circle for exclusive offers and discounts.