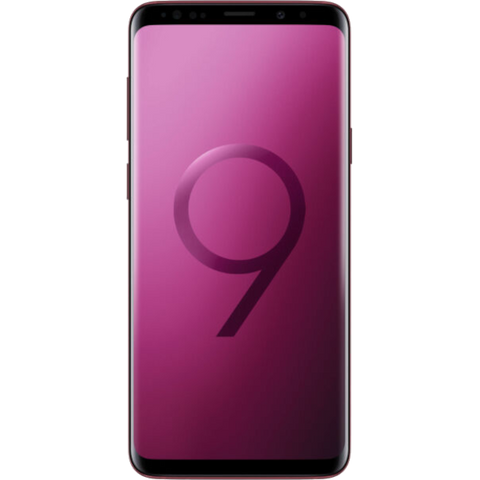 Samsung Galaxy S9
This collection is empty
If you're in the market for a new phone but don't want to spend a fortune, a refurbished Samsung Galaxy S9 is one of the best options.
The Galaxy S9 has all of the features you'd expect from a Samsung device, including modern technology, a stylish design, and two excellent cameras.
The S9's strongest selling point was clear among critics when it was released in 2018. The 12-megapixel Dual Aperture back camera has an incredible capacity to adapt to the light in the same way that the human eye does. The picture is completed by autofocus and up to 8x digital zoom, and the 8-megapixel selfie camera is the perfect match.
The Galaxy S9 and S9+ have essentially identical features to the Galaxy S8 models, including similar display sizes and aspect ratios. The location of the fingerprint sensor is one of the most noticeable differences between the devices - the S8's is next to the camera, while the S9's is directly beneath it. The S9 line, on the other hand, boasts significant camera enhancements over the S8.
How to get the most out of the battery on a refurbished Samsung S9
One of the most important aspects of caring for your refurbished Samsung S9 is the battery life. I'm sure we've all had our phones die while still showing 30% battery - it's one of the most inconvenient things to have go wrong, not to mention a costly repair. All ur phones come with an 80%+ battery life guarantee, so all you have to do is take care of your battery as best you can.
Here's our top tips for battery care:
- Charge your phone before it reaches 0%, but letting it run out fully now and then is also a good idea
- Turn off any battery-draining features that you aren't using, including GPS, mobile data, roaming, and live wallpapers
- Close any apps that are currently open
- Restart your phone now and then to clear away anything that is draining your battery.
The Samsung S9 is a powerful device. What can you expect from this mobile phone?
The Samsung S9 is one of the most popular smartphones on today's market. This device has been praised by critics as being one of the best smartphones on the market today. The phone boasts features such as an edge-to-edge display, a dual rear camera system with super slow motion video recording capabilities, and advanced image stabilisation software that helps users take stunning photos without having to worry about shaking their hands while trying to take pictures or videos using their phone's camera app feature.
If you're looking for a high-end smartphone that comes equipped with some of today's top-of-the-line technology features then look no further than this one here today!
Let's start with the display quality. The Samsung S9 has a 5.8-inch curved screen size with a resolution of 1440 x 2960 pixels and an aspect ratio of 18.5:9. This means that you get an immersive experience while watching videos or playing games - you'll feel like they're right there with you.
It has a powerful processor, a large battery, and an amazing display. The phone also uses the latest Bluetooth technology, so you can connect to your smartwatch or headphones without any issues.

This phone has an amazing 12MP rear camera that takes beautiful photos even in low light situations. You can also record 4K video at 60 fps with this camera too!
What will be the condition of a refurbished Samsung S9?
Some ur phones have had a longer life than others, just like everything else. So, to make sure you're entirely informed about what you're buying, we've put together this grading guide.
These three grades are completely transparent, giving you peace of mind that what's in your box is exactly what you expected. Put simply, you should feel confident that all our second-hand Samsung Galaxy S9s are of the highest possible quality.
Premium
Our flagship refurbished phones look and feel like new, there's not a screen or body scratch in sight. All our phones have a minimum 80% battery. If you want a pristine product, this is the best grade to purchase.
Excellent
In excellent condition, these refurbished phones show little signs of previous use. If there are some micro-surface scratches on the back or screen, these won't be visible beyond 30cm. All our phones have a minimum of 80% battery health.
Good
In good condition, these refurbished phones have been loved and used more visibly. These devices are likely to have light but visible scratches on both body and screen. The only difference between this and a brand new device is the cosmetic condition.
What type of charger comes with a refurbished Samsung S9?
Each ur refurbished phone is supplied with the UR 20W USB-C Power Adapter allowing you to charge your devices quickly and efficiently at home, in the office, or on the move. The power adapter works with any USB-C device to take advantage of the fast-charging capability on your refurbished handset. We advise using our charging equipment as using the wrong charger could harm your device.
Join the ur Circle today - you'll never need to buy new again.
Stay in the loop
Once you're in the loop you won't want to leave.
Be part of our Circle for exclusive offers and discounts.