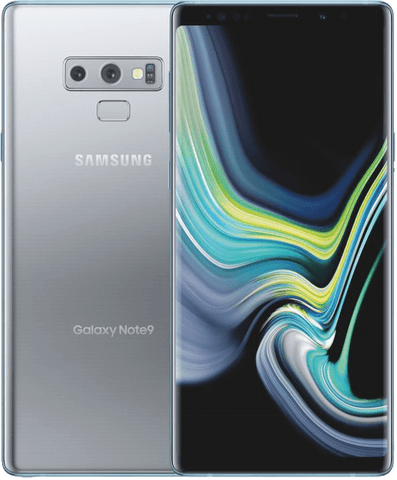 Samsung Galaxy Note 9
This collection is empty
The Samsung Galaxy Note 9, hailed as one of the most technologically advanced phones ever built, is designed for smartphone aficionados and power users, and it comes with a wide range of exciting features that make it one of the most well-liked gadgets on the market.
Why buy a refurbished Samsung Galaxy Note 9?
The distinctive "S-Pen stylus", which enables the user to scribble down notes on the magnificent 6.3-inch screen, and the ability to launch two apps simultaneously and side by side, are just two of the key selling factors of Samsung Galaxy Note 9 refurbished phones.
Not convinced on the Note 9 but love Samsung? Shop UR's entire Samsung range here.
Samsung Galaxy Note 9 key features 
Display and Design:
- 6.4-inch Super AMOLED display
- With a density of 516 pixels per inch
- Touch screen
- Curved screen
- Toughened glass
Dimensions:
- Size H162, W76, D9mm
- Weight 201g
Camera and Video:
- Dual camera
- Front camera 8MP
- Rear camera 12MP
- The second rear camera is 12MP
- The camera features auto-HDR, panorama
- Video capture in 4K HDR quality
Storage:
- Internal memory 128GB
- Expandable memory up to 400GB when using a microSDXC card slot. Boost your storage to hold more tunes, holiday snaps and extra apps.
Technical specifications:
- 2.7GHz octa-core
- 6GB RAM
- Operating system: Android 10
- App store compatibility: Google play store
Battery:
- Up to 72 hours standby time
- Up to 1440 minutes of talk time
- 4000mAh battery capacity
Product features:
- MP3 and MP4 player
- Headphone port
- Wireless charging
- This phone features fast charge technology - faster than standard charging, for when time is of the essence
- Contactless payment - link up your card to your phone for easy buying
- Fingerprint scanner for simple, safe and speedy unlocking and better security
Why buy a refurbished Samsung Galaxy Note 9 from ur?
Every phone that leaves our facilities in the UK has to pass 90 checks and inspections. UR phones will always be equipped for anything the world throws at them thanks to this thorough 90-point phone check-up.
Our professional phone engineers with unmatched tech know-how grade our phones using the industry's strictest diagnostic standards. This exhaustive restoration procedure is what has given ur phones the Approved Used designation. It is safe for you and your family to use, according to our specialists.
Following examination and authorisation, our engineers certify each gadget with its Certificate of Identification and Functionality. Only then do we allow the device to join the Circle.
Complete the Circle
We'll purchase your old phone when you're ready for a new one. It's that easy.
Within 15 months, send your phone back to us and we'll give you the best trade-in value. We pay extra if you've loved it more.
Additionally, the planet gains as well as your wallet. We plant two trees in appreciation of your kind deed each time you sell and return your phone to us.
Are you ready to upgrade your current device? Let's loop you in.
See how much your old phone is worth
Join the ur Circle today - you'll never need to buy new again.
Stay in the loop
Once you're in the loop you won't want to leave.
Be part of our Circle for exclusive offers and discounts.