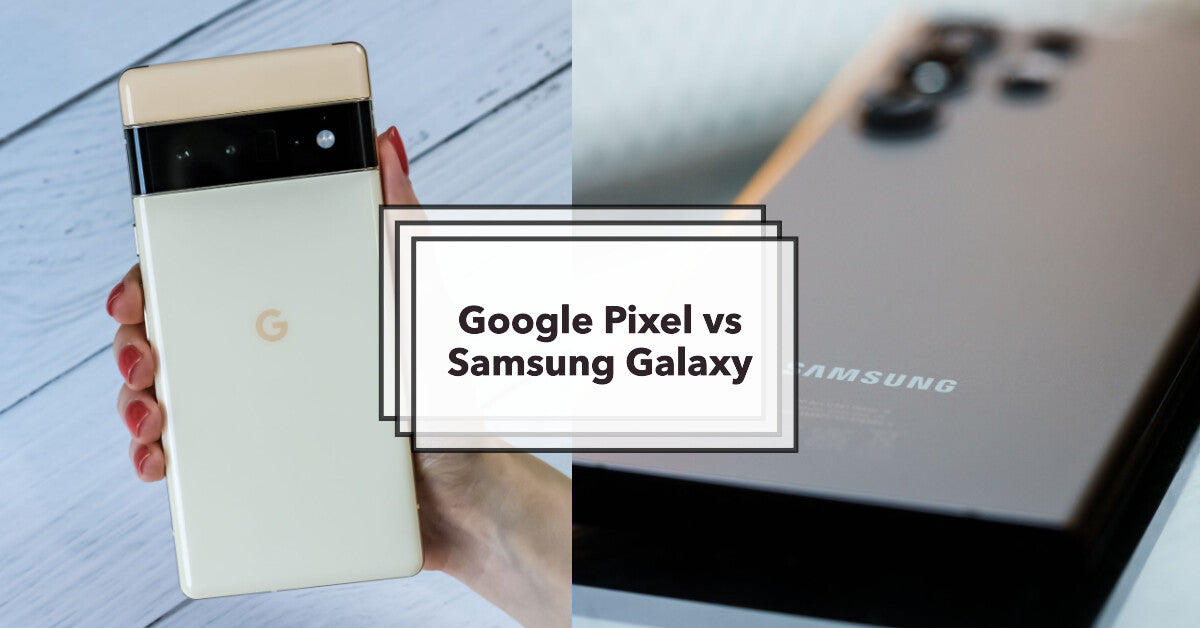 Google Pixel vs Samsung Galaxy: A Clash of Innovation and Style [2023]
In the battle of smartphones, Google Pixel is the epitome of innovation and style, perfect for photography enthusiasts and tech-savvy users alike.
Samsung Galaxy phones, on the other hand, offer endless possibilities, top-notch performance, and stunning displays, catering to those who crave versatility.
Let UR.co.uk guide you in this epic quest to find your dream smartphone as we delve deeper into the Google Pixel vs Samsung Galaxy debate.
The Battle of the Titans: Google Pixel and Samsung Phones
When it comes to Android phones, there are two brands that immediately come to mind: Google Pixel and Samsung Galaxy.
Both of these tech giants have made a name for themselves in the smartphone market, offering top-of-the-line features, sleek designs, and unmatched performance. But, which one should you choose?
The answer is not that simple. Both Google Pixel and Samsung Galaxy are great phones, each with its own unique strengths and weaknesses.
From the game-changing Google Pixel 7 Pro to the exceptional Samsung Galaxy S22 Ultra, and everything in between.
Design and Display: Beauty in the Palm of Your Hand
Ah, the eternal quest for a beautiful smartphone. Look no further than the Google Pixel and Samsung Galaxy devices! 
These masterpieces will make you feel like royalty every time you hold them in your hand.
The Google Pixel boasts a sleek and minimalistic design with uniform bezels all around.
Its back panel features a two-tone finish, with a glossy top and a matte bottom, making it stand out from most other flat-back phones in the market.
The Pixel's rear-mounted fingerprint sensor is easily accessible, providing a seamless unlocking experience.
Its OLED display comes in two sizes, measuring 5.8 and 6.3 inches, respectively. The Pixel 6 also sports a punch-hole cutout on the screen's top center, for its selfie camera.
On the other hand, Samsung Galaxy offers some of the most visually stunning smartphones around.
Their curved glass edges and minimal bezels make for an immersive experience that is hard to find elsewhere.
A close inspection of their latest models, the Galaxy S21 and S21 Plus, reveals that the button and sensor placement has been overhauled.
The fingerprint scanner is now integrated with the display, providing quick and secure access to your device.
The S21 line comes in three sizes, ranging from 6.2 to 6.7 inches, with Dynamic AMOLED 2X displays that produce vivid colours and deep blacks.
Overall, both Google Pixel and Samsung Galaxy phones are sure to please the most visually demanding users.
The Google Pixel's two-tone finish and the Samsung Galaxy's curved edges make for excellent design achievements.
Their OLED and Dynamic AMOLED displays are equally impressive and deliver a visually appealing experience.
Camera Showdown: Capturing Moments in Style
When it comes to smartphone photography, both Google Pixel and Samsung Galaxy offer impressive camera capabilities.
Google Pixel's main camera may not have as many megapixels as Samsung Galaxy's dual-camera setup, but it still produces stunning photos with excellent detail and sharpness.
Plus, its low-light performance is unmatched, making it the go-to device for night-time photography.
That being said, Samsung Galaxy's cameras are no slouch either. 
With its dual-camera setup, it offers more versatility than Google Pixel, allowing users to take wide-angle shots and zoom in without losing detail. 
Its image quality is also impressive, producing photos with vibrant colours and sharp details.
One area where Samsung Galaxy pulls ahead is in video recording. 
While both devices shoot high-quality videos, Samsung Galaxy offers a range of video settings and features, including the ability to shoot in 8K resolution and adjust focus and exposure while filming.
Overall, both Google Pixel and Samsung Galaxy offer excellent camera capabilities, with each device having its own unique strengths and weaknesses.
It ultimately comes down to personal preference and which features are most important to you.
Performance and Software: Powering Your Digital Lifestyle
Are you tired of slow-loading apps and lagging performance on your smartphone?
Look no further than the Google Pixel and Samsung Galaxy devices, which offer top-notch performance and software to power your digital lifestyle.
Processing Power and RAM
Both Google Pixel and Samsung Galaxy devices feature powerful processors and ample RAM to support your multitasking needs.
Regardless of the device you choose, you can't go wrong with any model offered by Google or Samsung, particularly newer models like the Samsung S22.
Storage and Software Support
When it comes to storage, the Google Pixel and Samsung Galaxy devices offer similar options, typically ranging from 128GB to 512GB. Additionally, both devices receive regular software updates, with the Pixel receiving the latest Android updates first and Samsung offering its own One UI updates.
Unique Software Features
The Google Pixel line stands out with its exclusive software features, such as the Google Assistant and its advanced voice command capabilities.
On the other hand, Samsung's One UI offers a user-friendly interface and unique functionalities like Multi-Window, allowing you to split your screen for multitasking.
The Importance of Software Updates
Software updates are crucial for maintaining the longevity of your device and ensuring optimal performance.
Both Google Pixel and Samsung Galaxy devices receive regular updates, with Pixel devices receiving the latest Android updates first.
Overall, both Google Pixel and Samsung Galaxy devices offer impressive performance and software capabilities to support your digital lifestyle. Consider your personal preferences and priorities when choosing between the two.
Battery Life and Charging: Stay Connected throughout the Day
Let's face it, no one wants a dead phone. That's why battery life and charging capabilities are vital features to consider when choosing a smartphone.
Google Pixel and Samsung Galaxy devices offer various options to keep you connected throughout your day.
Both phone brands have devices that come with fast charging capabilities and wireless charging, making it easier to power up your phone when necessary.
Samsung Galaxy users also have the added convenience of reverse wireless charging, which allows their phone to act as a wireless charging pad for other devices that support wireless charging.
This can come in handy in situations where you need to juice up your smartwatch or wireless earbuds on the go.
Ultimately, you should consider your personal needs when choosing a device. Do you prioritise a longer battery life or faster charging capabilities?
Do you need the convenience of reverse wireless charging? These are all factors to consider when making your decision.
User-Friendly Features: Simplifying Your Digital Interactions
Let's face it: no one likes a complicated phone. That's why both Google Pixel and Samsung Galaxy devices come packed with features to make your mobile experience as user-friendly as possible.
Google Assistant: Your Personal Virtual Helper
One of the standout user-friendly features of the Google Pixel line is the Google Assistant. 
With just the sound of your voice, you can ask Google Assistant to set reminders, make calls, send texts, and even control your smart home devices.
Plus, with the incredible Duplex technology, Google Assistant can call and make reservations on your behalf - talk about a handy trick.
Samsung One UI: Intuitive and Efficient
Samsung's One UI is another user-friendly feature that makes navigating your phone a breeze. 
With its clean and simple interface, One UI helps you find everything you need quickly and easily.
Plus, its intuitive design ensures that even the most technologically challenged among us can find their way around their phone with ease.
Other Handy Features
Both Google Pixel and Samsung Galaxy devices offer plenty of other useful features to simplify your digital interactions.
Take the Pixel's Call Screen feature, for example. This nifty tool uses Google Assistant to screen calls from unknown numbers and transcribe them in real-time, so you can decide whether to answer or not.
Meanwhile, Samsung's SmartThings app lets you control all your smart home devices from one convenient location, saving you time and hassle.
When it comes to connectivity, both phone brands offer great compatibility with major carriers in the US, making them accessible to a wide audience. However, Samsung tends to offer better phone deals and promotions, making it a more budget-friendly option.
What about availability? Google Pixel is known for releasing limited edition colors or designs, but Samsung takes it a step further with frequent collaborations and special variants offering exclusive features. So, whether you prioritise unique aesthetics or innovative functionality, Samsung may be the way to go.
Ultimately, the right choice of smartphone depends on your individual connectivity needs and aesthetic preferences. Consider your options carefully before making a decision.
The Verdict: Making the Right Choice
So, which one should you buy? The Google Pixel or Samsung Galaxy?
The answer is simple – it depends on your priorities.
If you value camera quality and prefer a clean Android experience, then the Google Pixel might be the perfect fit for you.
On the other hand, if you prioritise performance and enjoy a highly customizable interface, the Samsung Galaxy might be the way to go.
It's also important to consider factors like budget, software updates, connectivity options, and overall user experience. 
Remember, there's no one-size-fits-all solution when it comes to smartphones.
Take your time, weigh your options, and make an informed decision based on your individual needs and preferences. Happy shopping!
Frequently Asked Questions (FAQ)
Got any burning questions about the Google Pixel vs Samsung Galaxy showdown? Fear not, we've got you covered. Here are some of the most frequently asked questions:
Which phone has a better camera?
Both smartphone brands have exceptional cameras, but the Google Pixel is highly rated in the realm of smartphone photography. 
Its Night Sight feature produces stunning low-light shots, and its Portrait Mode creates beautifully blurred backgrounds. 
That being said, Samsung Galaxy's camera technology is no slouch either, with advanced features like Super Slow-mo and Pro Mode.
Which phone is better for gaming?
Both phones have powerful processors and ample RAM, making them great for gaming. 
However, the Samsung Galaxy typically has better gaming features and optimizations, such as Game Launcher and a dedicated gaming mode.
How do I decide which phone to buy?
Consider your priorities and needs. Do you value camera quality or battery life? Are you more comfortable with Google Assistant or Samsung's One UI? 
Decide what features matter most to you and choose the phone that aligns best with your preferences and budget.
Hope this helped answer some of your questions. Happy shopping!