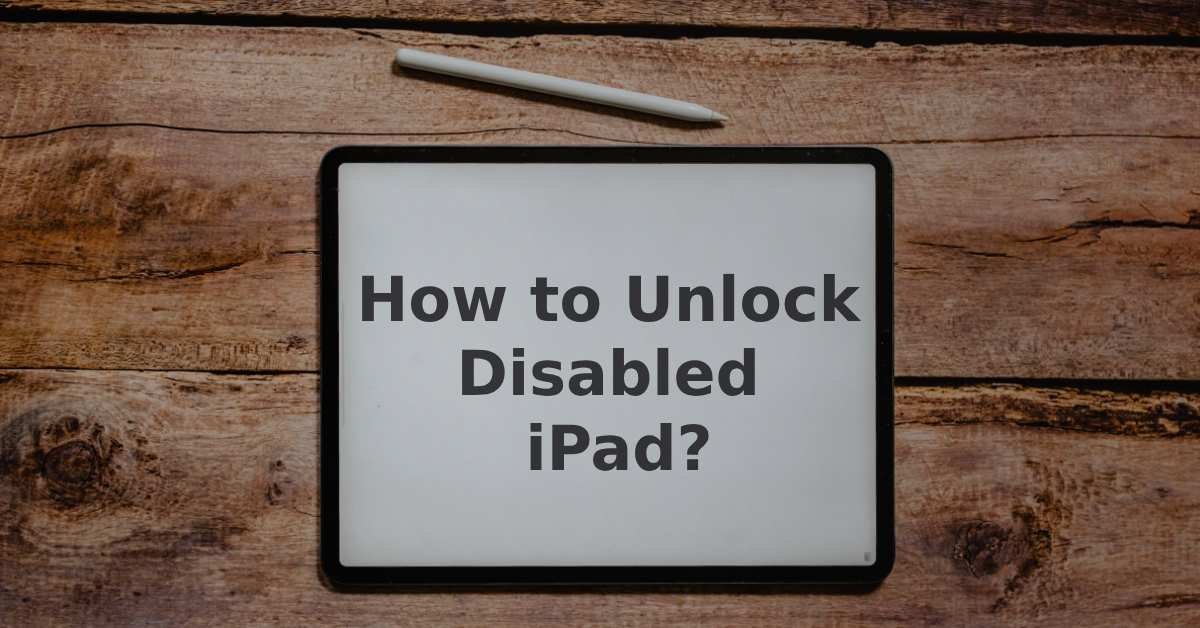 How to Unlock Disabled iPad: A Step-by-Step Rescue Mission
Are you feeling the heat because your iPad's become a locked vault?
Don't worry. Unlocking your disabled iPad is easy, and we've got all the hacks you need right here.
Stick around to learn more.
Fancy swapping out your Apple product instead? Why not browse our range of refurbished iPads and iPhones at UR.co.uk? Each one comes with a one-year warranty and a certified 90-point check to ensure you're getting excellent quality each time.
Key Takeaways
Unlock your disabled iPad with or without iTunes.
Know when to opt for Recovery Mode.
"Find My iPhone" isn't just for iPhones; it's your iPad's guardian angel.
Understand why Apple ID can be your saviour.
Remember! All options to recover a disabled iPad require deleting data. So, if you haven't backed up, you might need to start all over again.
Why Do iPads Get Disabled?
When your iPad transforms into a locked vault, it's usually because of one of two scenarios.
It could be that you've just entered the wrong passcode one too many times, or out of no fault of your own.
Lets find out.
Unintended Password Mishaps
Ah, the good old days when your cat could walk across your iPad without locking you out.
Unfortunately, failed password attempts are usually the culprit for a disabled iPad.
Apple's security protocols kick in, especially if the wrong passcode is entered multiple times in quick succession.
When that happens, your iPad becomes disabled to protect your data. But, in most cases, you'll be able to enter again after a certain amount of time.
If you've forgotten your password together, it's best to follow the simple tips outlined in this article.
iOS Quirks
Life isn't perfect, and neither is iOS.
Although it's rare, sometimes an update or a bug can throw a wrench in the works. The result? A disabled iPad that leaves you scratching your head.
Maybe you've just updated your iPad, or maybe it decided to do its own thing; either way, it's possible to end up with a disabled iPad through no fault of your own.
How to Unlock Disabled iPad via iTunes
Ever wondered how to unlock disabled iPad through iTunes? Well, going old-school often works.
iTunes is a classic choice for sorting out your locked iPad, especially if you've synced it before it cuts you out.
Software Requirements
Before jumping into the iTunes bandwagon, make sure you've got the right version. iTunes updates can affect the restore process.
Simply log into your iTunes on your computer.

Scroll down the sidebar until you happen upon 'Help'.

Then press 'Check for latest version'. Afterwards, follow the prompts to get the latest update.

 
Note: you'll need a USB cable computer with a stable internet connection for the next step.
We're going old-school, after all.
Step-by-Step Process to Unlock Disabled iPad via iTunes Backup
It's time to make that device accessible again!
Start by connecting your disabled iPad to the computer.

Open iTunes and look for your iPad icon in the upper left corner.

Click it, and you'll see an option to restore your iPad.

 
Follow the on-screen instructions, and you'll regain access to your iPad faster than you can say "Apple pie."
There you have it! The first part of the guide to unlock your disabled iPad is done and dusted. It's not rocket science; it's just knowing what steps to take.
So stay tuned for the next leg of this rescue mission!
But wait—did you know iPads also come in different flavours? If you're unsure about the quirks of your particular model, our handy guide on the difference between iPad and iPad Air can clear things up for you.
Restore iPad via Recovery Mode
Okay, iTunes didn't do the trick, or maybe you never synced your iPad in the first place.
Time to get into Recovery Mode.
Recovery mode is like the superhero entrance for iPads — it takes control when things look bleak.
Activating Recovery Mode
You'll need your trusty computer and USB cable for this one, too.
Connect the iPad to the computer, and while it's there, force restart it. The button combination you'll use depends on your iPad model, but for most, it's the Home and Power buttons held together.

A recovery mode screen will appear on your computer screen asking to update or restore; click "Restore."



Your iPad will go through a restore process, erasing all the data but ultimately restoring access.
And there you have it, a chance to bypass iPad passcode without knowing your iTunes details.
Erase iPad via Find My iPad
Do you want to unlock disabled iPad without access to a computer or a USB Cable? Well, Find My iPad is your go-to tool for remote access.
Head to the Find My iPhone on iCloud and sign in with your Apple ID.

You'll spot all your Apple devices on a map.

Select your iPad icon and, voila, you have a few options.

Click "Erase iPad," and you'll initiate a factory reset.

This will erase your iPad, including your iPad passcode, making it ready for setup again.

 
It's a neat way to restore your iPad remotely back to its original factory settings - No iPad password is needed.
Restoring iPad Data After the Big Reset
So you've navigated the murky waters of unlocking a disabled iPad. Bravo! You had to erase your iPad to get rid of that pesky "iPad is disabled" message.
Now, with the right Apple ID and password, your precious iPad data can be restored in a jiffy.
If you backup your iPad with iTunes, your life just got easier.
Hook up your iPad to your computer with a USB cable.

Pop open iTunes and look for the iPad icon near the upper left corner of the screen. Click it, and you'll land on the 'Summary' tab.

Here's where the magic happens: hit 'Restore.' On-screen instructions will guide you, making it a breeze to restore your locked iPad no matter the model.

 
But what if you skipped iTunes and went with iCloud? You're still in luck.
Power up your now unlocked iPad and link it to an internet connection via Wi-Fi.

Proceed through the on-screen instructions until you land on the "Apps & Data" display, and then select the "Restore from iCloud Backup" option.

 
Just continue to follow iCloud's prompts, and your data will reappear on your iPad screen like magic.
Your digital life is now back on track.
Third-party Apps to Unlock Disabled iPad
Look, we get it. Sometimes you're willing to try just about anything to unlock a disabled iPad.
If you've exhausted the official Apple routes and you're still stuck at the lock screen, you might be tempted to go down the third-party app road to bypass the password on your iOS device.
Before you get all excited, tread carefully.
While there are software solutions out there claiming to unlock your iPad without passcode or iTunes, they're not endorsed by Apple.
In fact, these apps usually require you to disable the Find My iPhone feature, which can put your iPad's security at risk.
So, why even consider third-party apps? Well, if your iPad is out of warranty and you're desperate, some people have found them useful.
Just remember, this route might give you access, but it could come with risks like data loss important to your own security.
Note: If you're grappling with multiple Apple devices and need them to be in sync, check out our guide on how to sync iPhone and iPad. It might not solve your locked iPad woes, but it's a lifesaver for keeping your Apple ecosystem in harmony.
Final Thoughts: How to Unlock Disabled iPad
Your iPad is a treasure trove of memories, apps, and binge-worthy TV shows. So, getting locked out can feel like a tragedy.
Thankfully, as we've seen, unlocking your iPad is achievable. From iTunes to Recovery Mode, from Find My iPad you've got options.
And speaking of options, if you're considering a refurbished iPad next, check out our commitment to sustainability and how we're planting a tree for every order with our Karma program. We make your next move a little bit greener.
So go ahead, and breathe easy with your now usable iPad!